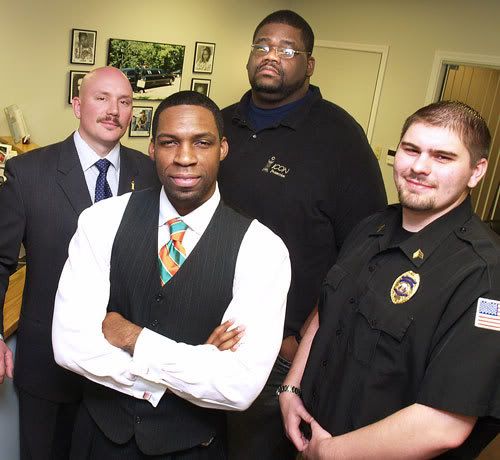 Abused women now have Icon's Elijah Shaw in their corner
By Carolyn Will
Elijah Shaw spent the last three weeks traveling around the country as the personal bodyguard for music mega-star Usher. This week he is back in his St. Paul office, the national head-quarters for his $3 million Icon Services Corporation, setting up meetings with battered women's shelters. Shaw, 33, of Highland Park, plans to provide free protective services to women who have been victims of domestic abuse. The new program, called ISC Safety net, will provide trained security personnel to escort women heading into potentially volatile situations, such as contentious court hearings or the victim's home or place of employment to collect personal belongings. "I decided it was time for me to give back," Shaw said. "I work all the time and I love my work, but it's given me very little time to reflect. This summer, I spent time with my brother at a family gathering. He lives a very different lifestyle from me. He's 10 years older, adopted two kids and devoted his life to working with the Iowa Coalition Against Domestic Violence in Iowa City. It started me thinking I should slow down and use my resources to provide these services in my community."  Shaw, who bears a strong resemblance to movie star Denzel Washington, has built an elite company over the last eight years with a roster of 29 agents. Icon provides bodyguard protection to Fortune 500 executives, celebrities and politicians. Icon's business has a Grand Avenue mailing address, but Shaw likes to keep the actual location undisclosed for security purposes. The waiting area of the office is graced by autographed pictures to Icon Staff from such celebrities as Chaka Khan, Naomi Campbell and Christina Milan.
Other notable Icon clients include Jehan Sadat, widow of assassinated Egyptian president Anwar Sadat; international businessman Koris Perleman, who makes frequent trips to Minnesota transporting jewels; and corporate executives from Lawson Software, International Dairy Queen, Ford Motor Company and others.
"When some of these people travel outside the U.S., the threat of kidnapping is very high, especially in Mexico," said Shaw, referring to the corporate executives. When Icon agents were pitched with the idea of volunteering their services to protect battered women, Shaw said everybody was enthusiastic. Icon security agents typically charge between $30 and $80 an hour, depending on the level of threat and length of the assignment.
Shaw said all of his agents are licensed by the state. They have training in firearms, martial arts, First Aid and CPR. They need to be physically fit and skilled in conflict resolution." Our line of work requires a tremendous amount of mental discipline," Shaw said. "An agent needs to make a lot decisions on his own very quickly. We don't need 800 pound linebackers with knuckles dragging on the ground. On the other hand, we want to make sure that if the clients are feeling anxious, our presence will make an overt impression that the clients are not there by themselves and they can't be pushed around."
Women's Advocates, a battered women's shelter on Grand Avenue, serves about 500 women a year, and executive director Raeone Loscalzo said ISC Safety Net could be very useful in some circumstances.
"The woman in Washington County comes to mind," said Loscalzo, referring to Teri Lee, the 38-year-old woman who was killed in her home on September 23 by her ex-boyfriend. "She'd been to several shelters, returned home and had a security system. Those women who choose to stay home and use court-ordered restraining orders may be looking for protection. (ISC Safety Net) could be a perfect solution for them."
At Women's Advocates, Loscalzo said most of the women have severed ties with their past and removed themselves from dangerous situations. However, she said there could be many women in domestic abuse situations where Women's Advocates don't know about, especially women from Asian and East African cultures.
Shaw recently met with the executive board of Asian Women United of Minnesota, which operates the first Asian women's shelter in the state. "It's a great thing that Elijah plans on doing for battered women and their children," said executive director Melani Suarez. She plans to use the company's services immediately to provide security at the shelter and to help women retrieve personal belongings from their homes.
Shaw grew up in the housing projects in Chicago and was raised by a single mother who fostered a positive family atmosphere. While attending Columbia College in Chicago to study film, he worked security in the nightclub of Chicago Bulls forward Cliff Levingston.
"It was the start of the Bull's dynasty and I was exposed to a lot of celebrities," he said. "My work evolved from there."
The ISC Safety Net will start in the Twin Cities and eventually may be expanded to Icon's other offices in Orange County, California, and Miami, Florida. For now, Shaw said he is happy to be helping the metro area where he is raising his 12-year-old son.
All potential applicants for ISC Safety Net must be assigned by an approved shelter or social service agency. For information about Icon Services, visit http://www.industry-icon.com/
Source: Villager Newspaper
Vol. 54, No. 18.  Nov. 15-28