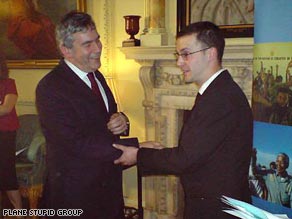 Dan Glass was at 10 Downing Street to receive a charity's award for his work on transportation issues when he staged the unusual protest.
Just before Prime Minister Gordon Brown presented him with the award, Glass squirted superglue in the palm of his left hand. He shook Brown's right hand and then grabbed the prime minister's sleeve.
"I've just superglued myself to your arm," Glass said he told Brown. "Don't panic. This is a non-violent protest."
The report said no charges were filed, but you can bet this guy is under close surveillance. Click on the text for the full article.